It's hard to imagine being able to explore New York City without some kind of assistance or a tour guide taking you around to the myriad of attractions and sights that this magnificent city has to offer the first-time visitor. However, you could give yourself a decided advantage prior to your arrival in the Big Apple if you had a copy of our 3-part comprehensive travel guide entitled "Inside Out: An Insider's Guide to NYC's Outer Boroughs" Parts 1, 2, and 3. No matter what it is you are curious about, there's a good possibility that you will find it in this guide.
Many individuals have already purchased and downloaded "Inside Out: An Insider's Guide to NYC's Outer Boroughs". Some have read it purely for their own edification and pleasure while others have taken it with them on a recent trip to New York City. So whether you are searching for the best accommodations in the 4 outer boroughs, cuisines from different continents and countries, entertainment venues or the nightlife scene, or you just want to go shopping and sightseeing, this travel guide has it all and then some.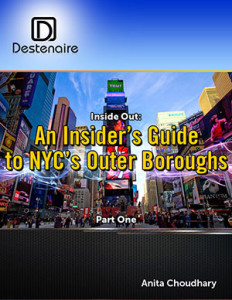 In Part 1, we'll introduce you to New York City and the 4 outer boroughs of the Bronx, Brooklyn, Queens, and Staten Island. We start by providing a brief education and overview of these 4 boroughs as well as the best times to consider visiting the city. In this segment of Part 1 we examine the financial, holiday, and weather considerations that should be taken into account when trying to determine when you would like to visit the city.
We also cover the primary ways of accessing and getting around in the city while discussing the main transportation venues to consider using. We provide you with basic sightseeing advice as well as information on pedestrian travel or traveling on foot. The final segment of Part 1 deals with you and your personal safety. Staying safe when visiting New York City is a priority so we have included some helpful tips where this is concerned.


Part 2 is an in-depth look at the Bronx and Brooklyn complete with overviews of the two boroughs including their most recognized neighborhoods. You'll find information on the many geographical features of both boroughs including the many open areas and parks to visit. You'll learn how to get in and around both boroughs while at the same time having a compact list of the top things to see and do. We've also provided our recommendations for the best lodging and top restaurants.
Part 3 takes you exploring in Queens and Staten Island, from the basic overviews of each borough including their geographical features and neighborhoods. You'll find information regarding getting in and around these 2 boroughs as well. You'll learn about culture and sports in cuisines and even be provided with inform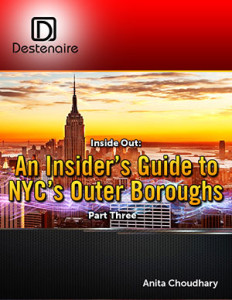 ation for taking a culinary tour. The segment on Staten Island follows a similar format including information on the gardens and parklands that the borough is known for. Finally, there is information on the top things to see and do as well as our recommendations for accommodations and dining out.
We hope you enjoy your copy of "Inside Out: An Insider's Guide to NYC's Outer Boroughs", Parts 1, 2, and 3 and happy traveling. Part 1 is FREE but you can buy Part 2 and 3 at $4.99 each athttp://www.destenaire.com/books.
Article Categories:
Books