In Turkey (which, by the way, is fast becoming a vacation destination hotspot, due to the various cultures, cuisines and landscapes that are scattered across the country), there is a jaw-dropping multi-building hotel that is essentially carved out of caves, with roots that reach back centuries.
Located near the charming town and district of Ürgüp and in the Cappadocia region of Turkey, the Gamirasu Hotel has been dazzling guests since it began serving as a hotel back in 1999. Not just with its stunning architectural feats (like, you know, building gorgeous buildings out of and into caves), but with its incredible customer service, lovely design and fabulous location as well.
However, it is worth noting that one of the most fascinating things about this incredibly deluxe hotel is its history, since this hotel has roots as far back as the Byzantine Era (yes, really). In fact, during that time period these buildings were used as a monastery retreat. And luckily for guests, there are many remnants of the past around, while the hotel itself is decidedly deluxe and modern. Pretty much the best of both worlds, right?
And while marveling at this hotel's extraordinary décor and intricately designed detail is fun, it is far from the only thing to do at the Gamirasu. Guests can also go for a dip in the stunning pool, participate in a yoga or massage therapy workshop, bake bread in a stone oven, witness the apricot drying process, enjoy harvesting apples, mulberries, tomatoes and grapes from the surrounding farmland, as well as making grape jam and learning home-style wine-making.
Or, if you fancy yourself something of a culinary aficionado, guests are invited by the hotel chefs to learn to cook (and then try out!) various traditional Anatolian meals and treats in the hotel kitchen. Really, it is pretty hard to get bored at the glamour and eventful Gamirasu hotel.
Want to know more about this truly fantastical and historic hotel? We did too, which is why we were so thrilled to sit down and chat with Gamirasu Hotel General Manager Hamide Demiral.
Continue reading to see what Hamid had to say about which aspects of this hotel make it such an alluring destination, the hotels best dishes, what activities guests should partake in while visiting the Ayvali Village and much more!
Tell us a bit about how this magnificent hotel came to be.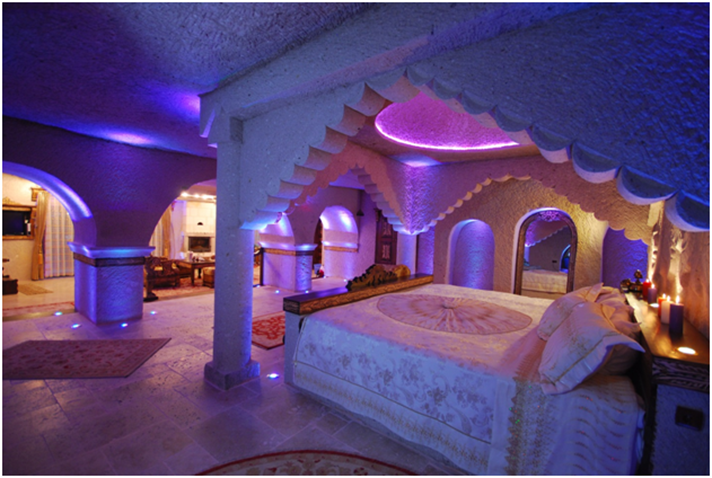 Set in the heart of Cappadocia, the Gamirasu is an intimate and exquisitely restored Byzantine monastic retreat with a well deserved reputation of being one of the best hotels in the region. Here the focus is on exceptional service, attention to detail and the warmth of a home away from home.
Comprised of six beautifully restored and integrated cave houses, all 35 rooms in the Gamirasu are designed in harmony with the natural "fairy chimney" surroundings, but with all the comforts of a modern hotel.
What do you think it is that draws so many people to the Gamirasu?
The finish is stylish and the atmosphere inviting and romantic. Indeed, it is the perfect honeymoon destination, with many couples choosing the intimate cave suites for access to some of the most breathtaking and unforgettable scenery in the world. The sense of tranquility and authentic village atmosphere around the Gamirasu is instantly soothing, with nothing to disturb you but the sound of birds and sumptuous aromas drifting across the warm air from the old Monastic kitchen. Breakfast consists of all local and organically grown produce, including freshly baked bread, clotted cream, honeycomb and fresh fruit.
What is the best part of running such a unique establishment?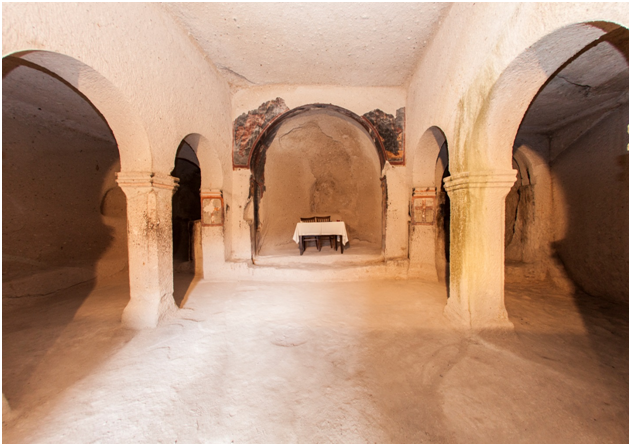 A 12th century Byzantine Christian church forms part of the Gamirasu, and until recently, part of
the hotel was still used by Christian monks. Much care has been taken to blend the historic facades with the natural curves of the Cappadocian landscape to preserve its traditional style and appearance whilst providing guests with the utmost in modern conveniences.
Apart from the fascinating architecture, what aspects of this hotel seem to enchant guests most?
While visiting certain rooms of the hotel (which used to be a monastery), guests are able to experience the full atmosphere of the past. The hotel is a good sample of Cappadocia landscape, caves and atmosphere.
Any recommendations for which dishes guests should dig into at the hotel's restaurant?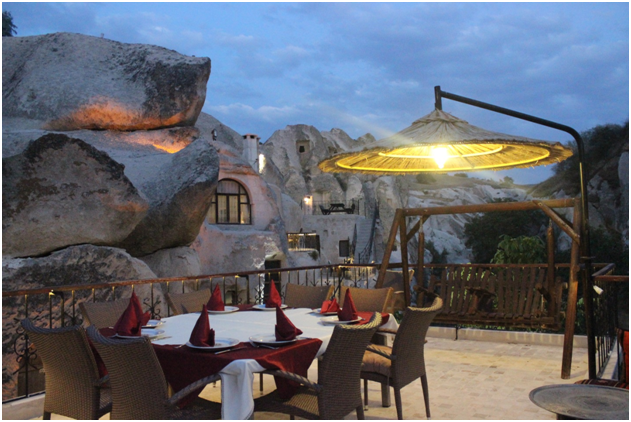 We have an A La Carte-style restaurant (with breakfast from 7:30-11 AM, an open buffet service, lunch from 12:00-5 PM and dinner starting at 6 PM and ending at midnight), where we have a wide menu for traditional meals and wine, as well as other drinks.
Not only our hotel guests but also anyone can come and enjoy their breakfast, lunch, dinner and drinks at our restaurant.
In the hotel kitchen, organically-produced food is used. The food is produced with the technical assistance of the Rapunzel Bio-Farming company. The chef presents some typical Turkish dishes that Cappadocia is famous for! Plus, we are also serving Pottery Kebab.
"Chef Special" kebabs from our Ayvalı village Ayvallı Mantı are also very popular. Another popular dish is our organic eggplant, pepper and grape leaves staff.
If a guest only had one day to explore the Ayvali Village, what areas would you suggest they visit?
A 7 KM hiking trail departs from the front door of the hotel and follows a remote valley with a beautiful brook flowing down the middle. In every direction, hikers are surrounded by breathtaking views, extraordinary natural shapes and a myriad of cave-dwellings to explore. It really is the most mesmerizing of destinations.
What advice would you offer to first-time visitors?
We can assist guests with scheduling and planning tours and activities for our guests that need help in this area (especially those with no agency contact). Not only sightseeing programs but also with planning hot air balloon flights.
Anything else you'd like to add?
We love nothing more than meeting new guests!
As per usual, feel free to share your thoughts/comments/suggestions below in the comment section!