Turquoise waters, brilliant white sand and home to notoriously-stunning sunsets, legendary island of Bora Bora is part of the Leeward group of Society Islands in the Pacific Ocean.
Throw in its breathtaking location, ring of coral reefs and an abundance of dolphins and other tropical marine life, and you have yourself a perfect couple's getaway. You can spend the day snorkeling in the beautiful lagoons of this Polynesian island, explore the soft sandy beaches on horseback, or simply enjoy the view at Bora Bora with this guide.
Hotels & Resorts
The following are some of the best hotels and resorts in Bora Bora.
Le Meridien Bora Bora
The Le Meridien holds a perfect location on the island. Premium Overwater Bungalows offer more privacy, but if you don't mind a little shake now and then, try out the bungalows further out in the middle of the lagoon for better views of Mt. Otemaru. One can relax with cocktails and the amazing view of the mountain from the pool with friendly and accommodating staff to take care of your needs. Superior food and internal and easy to swim lagoon makes Le Meridien the classiest resort in Bora Bora. A popular destination for Japanese weddings, this hotel features a pretty cool turtle sanctuary and has a ton of beach to go with it.
Four Seasons Bora Bora
The four seasons makes its way to this short list of luxury with beautiful accommodations in the form of a string of manicured teak over-water, thatched bungalows. But don't let the rustic view of the outside trick you, these bungalows have all the features and amenities you would find in any urban five star hotel. And for those who don't much care of being perched above turquoise waters, the Four Seasons also has beachside villas with their own private pools, full service spa, and access to an abundance of tropical activities.
Intercontinental Le Moana
The Le Moana Resort includes individual, traditional Polynesian bungalow suites located both, on the beach and or over a beautiful clear water lagoon. What makes this resort unique is the two white sand beaches that set the scene and make it an ultimate island escape.
Intercontinental Thalasso Resort and Spa
The Intercontinental Thalasso is a more expensive, but beyond amazing option. The Intercontinental Thalasso Resort and Spa also offers some of the best day time complimentary activates from daily Stingray feeding and paragliding to paddle boarding, kayaking and even wind surfing. While the bungalows at this resort have the same floor plan, one does get a better view and more privacy further out the lagoon. The resort also offers some great packages, so don't forget to check them out before you check in.
Tips
• Since Bora Bora is a very expensive destination, getting your meals included in your stay is highly recommended.
• Bring at least 2 bottles of sunscreen. Sunglasses and hats are also a must.
Attractions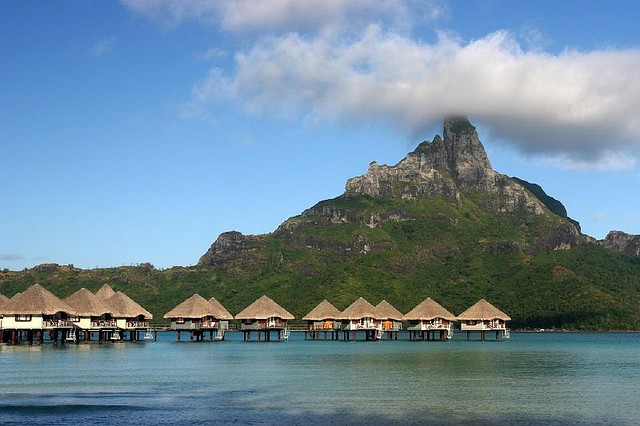 Contrary to popular belief, apart from having perfectly calm waters, there is an abundance of activities which can be experienced at Bora Bora. The following are some of the many activities you can enjoy while you're in Bora Bora
Mt. Otemanu
Mount Otemanu is a jagged remnant of an ancient volcano that rises to a sharp height of 2,400 feet and makes for an impressive backdrop for your photographs. But if you want to take a closer look of this beautiful creation of nature you can hike to this scenic destination.
Tupitipiti Point
If you're in to sharks, rays, groupers and other large fish then Tupitipiti Point has an abundance of marine life. This dive site is known for a steep drop-off, and its purple coral reef.
Coral Gardens
If you think you've seen every species of tropical fish, think again. The Coral Garden is filled with an abundance of tropical fishes. In fact, there will be so many of these beautiful creatures surrounding you that it will sometimes be hard to see the water.
Leopard Ray Trench
Leopard Ray Trench is located at the southern tip of Bora Bora. If you fancy swimming with giant Manta rays and other exotic marine life then this is the place for you.
Bora Bora Lagoonarium
At the Bora Bora Lagoonarium, you'll find a certified diver to guide you as you swim and come face to face with the sharks, turtles, sting rays and numerous other marine life. As the name implies, this commercial aquarium offers a captivating and enclosed zoo-like environment, which is great for those who are not into sitting all day by the beach. If you're not into diving the Lagoonarium also houses a small submarine.
Diving
Most resorts in Bora Bora either offer in-house scuba diving activities or can organize one for you. But if you want to go at it alone, there are many tour operators who offer diving and scuba excursions. The island is 20 miles around, so there's plenty of on road activities as well. Jeep tours are one of the more popular land activities and are well worth the trip. Tourists get to drive through some rough trails on the island and take in some breathtaking views of American WW II ruins, such as bunkers, gun emplacements and so on.
Shopping
It is apparent that the rich culture of Bora Bora has greatly influenced the shopping markets. Tourists get to enjoy an abundance of choices in retail stores, art galleries, and local restaurants which are set up in both traditional and modern settings. You will also find an abundance of jewelers, and especially black pearls, perfumes and oils, and precious wood handcrafts.
Ending Note
The Polynesian island of Bora Bora is ranked as one of the most jaw-dropingly exotic locations in the world. The best way to arrive is via Tahiti, which is less than an hour's flight from Bora Bora, and the best time to visit this beautiful island destination is May. There are numerous things one can do to experience Bora Bora and thoroughly enjoy the experience of exploring the destination.