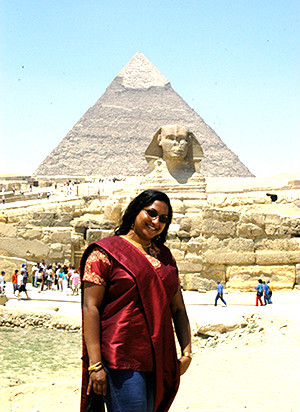 In October 2014, the British Broadcasting Corporation known around the world with the acronym BBC, announced the addition of a new radio show that would be fronted by journalist-turned-radio host Ashanti Omkar. The British Tamil who grew up in East London, has dedicated her show to the latest arts, entertainment, and music from South India and the diaspora of Sri Lanka. Additionally, she focuses on the most recent releases as a part of the show's format. Her show is the first of a kind, and specialises in playing music from independent artistes of the wider Southern Indian diaspora, as well as from the 600 odd films released from this part of India a year, celebrating the rich culture, heritage, festivals and cinema. We recently had a chance to interview her.
You've lived in many places – born near Peradeniya, a hill station in Kandy, on the island of Sri Lanka, grew up in Denmark and Nigeria, and moved to London, England aged 12. Undoubtedly, each one of these places has shaped the person you are today in many different ways. How would you briefly describe each of these countries to someone who has never visited them?
It was an enjoyable childhood, spanning different countries. I went back to Sri Lanka in 2005 for the WOMAD music and dance festival, and again in 2007, when my Grandfather passed on. Many things have changed since my childhood visits from Nigeria, and when my Gandparents home was burnt down in 1983, but the beauty and warmth of the people remains. The cuisine, expansive tourist beaches, and tropical climate are just a few of the things that were visible, on my trips back.
If there was one place that I could visit again and again, it would have to be the "Isla Mujeres" i.e. the Island of Women in Cancun, Mexico, which has the
most lush warm beaches, teamed with fresh seafood.
I have strong roots in Nigeria, West Africa, as I grew up there until I was 12, and saw a good education, food, and many friends. Although the Nigeria has recently has many challenges, it was absolutely lovely when I went to visit in 2004. Even after I relocated here to the UK, I kept up with Nigerian culture, food, and music. The southern region of Nigeria, especially places like Ife, remain rustic and very beautiful and green. It has been said that civilization began in Ifewara, and I was pleased to get a glimpse. If you plan to visit there during the holidays, be sure to visit Victoria Island in Lagos, and do sample the amazing Nigerian cuisine on offer. As with any travel, be cautious and tread carefully.
I was a small child when I lived in Denmark, but I still remember sizzling bacon and sausages as well as sleighing and snow. I hope to visit Arhus, where I lived as a child, and see the beauty of Denmark that my Parents fondly reminisce on even now.
What are your top 5 favorite restaurants in London?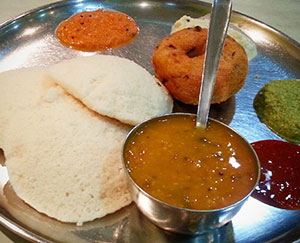 I love trying out different cuisines and restaurants. But Jerk City, Roti Chai, Vasantha Bhavan, Thiru Ananthapuram, and Busaba Ethai are my 5 favorites, as well as eating al fresco, at various pop ups and markets.
If you could travel anywhere in the world tomorrow, where would you go and why?
I have always dreamt of visiting Saint Lucia in the Caribbean, as well as Seychelles in Africa. Both behold beautiful views, many hidden gems, and pristine beaches. Plus, the fresh seafood is amazing. And if there was one place that I could visit again and again, it would have to be the Island of Women in Cancun. You can walk quite a ways out from the beach as the waters are very shallow there. However, as much as I love discovering new places, I would return to Cancun year after year, even for a few days.
When preparing for a trip, what's the best way to learn about a new culture?
The major thing is getting to know the locals and visiting the supermarkets. Being friendly to the locals, and having faith in humanity seem to do the trick, as your warmth is reciprocated. The experience of mingling with the people of the land you're new to, allows you to learn more about everyday life, and also gives you the most enriching experiences. Like in Fez, Morocco, where we went for the Sacred music festival, going to the home of local students, sharing dhal (lentils) and bread, was and incredible feeling!
Any advice for stylish comfort while traveling?
I would say that one needs to dress for the weather, and plan for this. London has a broad spectrum of weather, so I always take a coat and dress in layers. Practicality is important for me. When traveling, dressing like the natives of the land, tends to be well received, I've found.
What is your hotel of choice and why?
Honestly, I am not a big fan of hotels. I prefer staying with friends where possible, when I travel. But I do like boutique hotels that are not big chains, and smaller and more intimate. They are more homely and provide you with a more personal experience. Although the 5-star hotels are wonderful, but also impersonal, due to the sheer numbers of visitors residing there. When I traveled to Kerala, India, we stayed at small family run hotels, and on houseboats and it was wonderful. For me, travel is all about the people. This is how you get to meet the locals and experience places.
How do you stay organised, on-the-go? What apps or accessories do you find convenient when you travel?
I don't use any apps or accessories, if I'm honest. Even when I am in London, I don't use GPS on my phone. I rely on the locals and policemen in my city, and abroad. Even if there is a language barrier but you can speak a few words, they will open up to you and help – I've found this to be absolutely true in places like Florence, Italy, Paris, France, and in Egypt too. I have gotten some of the best assistance from total strangers. To stay organised, I search the internet before heading out. I try to stay at places that have Wi-Fi, but have found that getting affordable internet is not as easy as it seems, even in technologically advanced countries. More so if you're travelling to places like Cuba, where it is few and far between, and really expensive, we found, on a road trip we did there in 2008.
What are your favorite photo sharing sites?
Instagram is a favourite that I got on, in 2012, however, I do utilise Facebook and Twitter heavily for my post travel photos, and to share nostalgia from trips.
Bollywood vs. Hollywood: How do you measure up?
As much as people feel that Bollywood and Indian cinema in general, is competing with Hollywood, but based on my personal experiences, and when talking with creatives, while they might be inspired by Hollywood, they are also inspired by films from all over the world, and they see Indian cinema as unique in many ways. In terms of measuring up, they are very individual in their output. They both started at about the same time so both industries are over 100 years old. They both have their own audiences. Indian cinema, including Bollywood's output (which is the 200 odd Hindi films, out of the 1000 that India produces a year, from all over the country), is loved by 1.2 Billion people the world over, not to mention the love for Bollywood (Hindi cinema), from Africa, Russia and beyond.
As someone who watches Bollywood, independent films, world movies, and Hollywood movies every week, every film has its own individuality. And every filmmaker has their own personal journey that is reflected in their films. They don't need to measure up with each other, as they are like apples and oranges. Bollywood has its own identity, as does Indian cinema as a whole (films in Bengali, Punjabi, Tamil, Telugu, Malayalam, Kannada, all have their own nuances). People go to see the colors, steep themselves in the music, melodrama and the choreography, as well as vibrant outfits. The new wave of independent cinema, which showcases realism, is also being embraced by festivals the world over – I was at the Zurich film festival last year, watching films in Marathi, Tamil, Hindi, as well as English and Swiss films.
When is the best time to visit South Asia? Any festivals to be sure not to miss?
For the ideal trip, I take an extended trip to India, Thailand, Malaysia and Singapore, and maybe go to the Philippines, China and Japan too. My advice is to do the research and plan to enjoy the new year's festivities, as these are very colorful in those parts. I prefer to visit India in December, as this is the best time for music festivals, especially during the South Indian Carnatic music season, namely Marghazhi. Another must-see festival is the Lakshminarayana Global Music Festival that travels to many world heritage sites, like Hampi in Karnataka, South India. December and January are the best times of the year to visit India, for me, as it is cooler, and a lot is happening.
In conclusion, we see Ashanti Omkar as a new and uniquely entertaining media presence and one who is sure to bring more attention to the South Indian and Sri Lankan community in the UK. She is an innovator in the broadcast sense, in that she provides exciting and fresh content to a cultural audience that is rarely targeted and often overlooked in Britain You can listen to Ashanti Omkar from 2pm to 4pm every Sunday by tuning in online to the BBC Asian Network. Or you can catch her on the BBC iPlayer, DAB, satellite or your phone.
Photo credits: Akin Aworan