Spain is a diverse country rich with history. This article includes driving, safety, and packing tips. Learn about Spain's history, culture, food venues, and places to stay.
Spain is a diverse country rich with history. The government of Spain is ran by autonomous communities with diverse cultures. Spain has 19 primary regions known as autonomous communities:
Andalusia

(Southern Spain but North of Ceuta)

Aragon

(North Eastern Spain – South of France)

Asturias

(North Western Spain near the Bay of Biscay)

Balearic Islands

(By the Mediterranean Sea)

Basque Country

(Northern Spain)

Canary Islands

(By the Atlantic Ocean)

Cantabria

(Northern Spain)

Castilla-La Mancha

(Central Spain)

Castile and Leon

(North Western Spain)

Catalonia

(Eastern Spain near Andorra and France)

Extremadura

(South Western Spain just North of Andalusia)

Galicia

(Furthest West region of Spain)

Madrid

(Central Spain)

Murcia

(South East)

Navarre

(North East)

La Rioja

(North)

Valencia

(East)

Ceuta

(southern near the Atlantic Ocean and Gibraltar UK)

Melilla

(south of Ceuta)
Each autonomous community is part of Spain but for the most part the communities have the right to self-govern within the region. So traveling between different regions may have cultural, social, food, and language variations.
Traveling in/to Spain
Most international travelers visiting Spain fly into Barcelona. From there you get your passport stamped and find another mode of transportation to explore the country. Depending on your nationality, for example Americans, can drive in Spain using their USA drivers license.
Driving in Spain is a lot like driving in the United States. All the major vehicle functions are fairly universal, but some cars take significantly longer to accelerate. Most rental cars in Europe are manual transmission; This is important to note because Spain has a lot of congestion in certain areas, as well as steep terrain some travelers may be unfamiliar with. Even if you live in a mountainous area of the United States, Canada, or another country and are familiar with driving a manual car, you may not be familiar with roads that slope nearly vertical while driving a manual transmission with a smaller engine.
Cars in Spain are taxed based on a system known as taxable horsepower or fiscal horsepower. This is based on overall engine capacity and encourages four-stroke engines over two-stroke engines. This taxable horsepower is part of the reason cars are generally slower in Spain than countries like the United States (The UK and Illinois have similar guidelines).
Driving Tips in Spain
Be careful driving in this new environment.
Learn what signs mean before you go go Spain.
Understand that most European cars can take up to 3 minutes to hit full speed and catch up with high capacity roads like the autopistas and autovías (similar to highways, interstates, and freeways).
Know how to drive a manual transmission on hills before you go.
Most European cars take petroleum. When gassing up, you may need a credit card with a smart chip. At night, especially in small towns, you will be stranded and unable to purchase gas until morning without a credit card with a smart chip.
Some European mountain roads are practically vertical. There is a very real danger of rolling backwards or stalling the vehicle if you do not use enough gas. On the other hand, if the roads are steep with vicious turns, be careful.
Just because a road doesn't have a dotted line, does not mean it is a one way road.
Some roads are for pedestrians only.
Many roads are just wide enough for a very small vehicle.
Other Modes of Transportation in Spain
You may also choose to tour Spain by public bus, train, taxi, bike, or on a private tour bus. To be safe, keep your valuables close by on public transportation. Do not leave your passport in an unattended bag or loose purse. If you do lose your identification, contact your country's embassy. Avoid carrying large amounts of cash or flashing money in public. If someone approaches you, keep hold of your purse at all times. Often thieves will work in teams.
Safety works best in numbers in any city. If you intend to party or drink while in Spain it's best to travel with a friend, plus it's more enjoyable to share the beautiful countryside experience with someone else.
Where to Stay & Sharing your Travels
While touring Spain you may want to share your adventures with family and friends back home. International roaming charges can be extremely expensive if you don't plan ahead. Most American, Canadian, and British phones do work on EU SIM cards. You can buy a phone, data plan, and SIM card while you are staying in Spain or you can rely on wifi. Most hostels, hotels, resorts, and B&Bs offer free high speed wifi in Spain. If your lodging does not have wifi, most coffee shops or restaurants do.
Hostel
Hostels in Europe are a lot like dorm rooms or upscale temporary apartments. The primary difference is that a hostel generally shares some living space, entrance, or bathroom. Not all hostels share living spaces. In many ways hostels are very similar to hotels but often cost significantly less. Some hostels share bedrooms with up to 10 other people, and store luggage in lockers. Do your research, read reviews, and know your comfort levels prior to staying in a hostel.
Bed and Breakfast
B&Bs or Bed and Breakfast lodgings offer a unique perspective to travel. B&Bs are homes that offer a room or guest house. Not all B&Bs include food as the name implies. Spanish homes can feel quaint and charming like a storybook stonework or be palatial works of art. Most B&Bs, unlike hotels, book up in peak seasons up to a year in advance. Plan ahead to get a reservation at preferred locations.
Hotels
I've stayed in luxury hotels in Spain, but I've never seen or stayed in a hotel as big as one in America. Most of the hotels in the few cities that I've been to do not look like skyscrapers or modern versions of a compound. Instead areas like Catalonia, Montserrat, Girona, and Barcelona may have a city feel but with old world charm.
Most of Girona's city center reminds me of the middle ages when knights and fair maidens would have walked the cobblestones. In fact, many of the hotels in Girona are featured in National Geographic. The entire city is filled with spiritual, historical, and cultural charms. It is a city that authors write about, full of secret societies, lush landscapes, and hidden gems.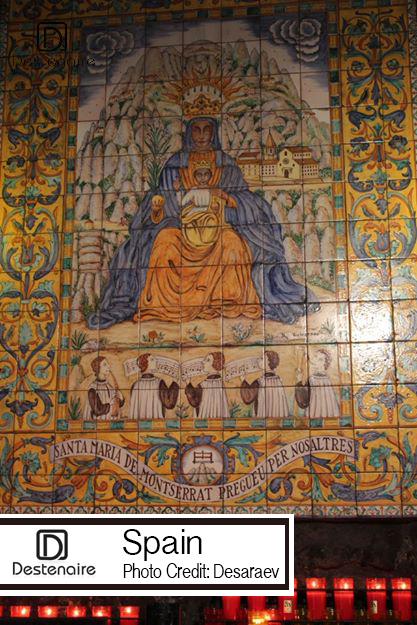 Food in Spain
If you make it to Girona try the hot chocolate. It's not what you would expect. One drink must be 5000 calories (that's an entirely made up number). The chocolate is so thick they give you a spoon. It's the kind of warm gooey chocolate you can dip a croissant into, which of course is even more calories, but Girona has amazing sweets. Indulge your sweet tooth, you will get enough walking to make up for it.
Eating in Spain is an event. It is not a fast in and out affair. Most of your meals could take half the day to finish. Some places will serve you 5-20 course meals. You will often eat those meals with wine, coffee, thick chocolate, or sparkling water. It's worth taking the time to do this. The servers at restaurants in Spain remind me of small town life. Maybe it was because I traveled as a female with my best friend who is also female, but we felt like everyone was amazing. If you end up going with a big group, be warned that servers in Spain will not split the tab. In Catalonia regions of Spain and the South of France many of the service industry staff speak English, French, or Catalonian which is not typical Spanish. You will need another English to Catalan dictionary.
El Celler de can Roca
When you visit Spain look up El Celler de can Roca. It is a two star Michelin Winner. Why should you care about Michelin ratings? Michelin stars are very prestigious in the food industry. To earn even one star means that the restaurant constantly lives up to a very high level of quality, cleanliness, and down right delicious food. Most Michelin award winning restaurants have prices that reflect their quality and high standards of perfection. El Celler de can Roca is no exception to Michelin pricing for food, but if you can afford it you will be treated to some amazing food.
Activities and Touring Spain
Two weeks in Spain isn't enough to see anything. Every region has it's own culture and gems. Even ten trips will not be enough to satiate the desire to explore this beautiful land. When I went to Spain, I toured Salvador Dali's house, a monastery, multiple Cathar castles, areas that are considered secret and must be visited with tour groups, and holy sites. This is the kind of place you go to when you want to experience the beauty of past generations and religion.The various temples, castles, monasteries, cathedrals, and basilicas are not just beautiful; but places that feel important. Places that make you feel connected to the world and small at the same time.
Montserrat
For example, Montserrat is positioned in an area where you must take a rack railway or cable car to get to certain areas. You can stay at  Montserrat to pray and explore the mountain. Montserrat itself is known for the Benedictine abbey, the Virgin of Montserrat, and is considered to be one possible location for the Holy Grail according to Arthurian myth.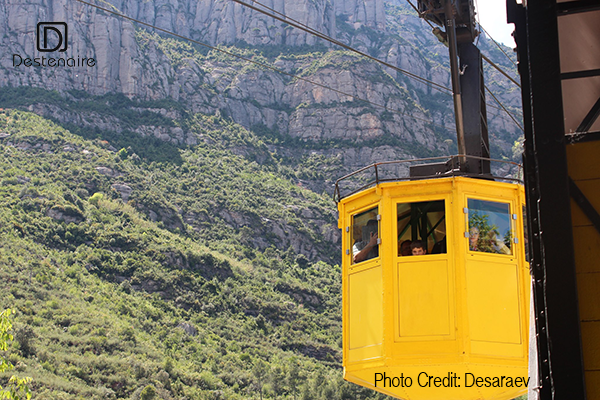 What to Pack
Hiking shoes or boots. Mountains are plentiful in Spain. It's worth it to go exploring.
Electrical adapters are a necessity if you plan to pay anything electrical like a phone, camera, computer, ipad, hair dryer, or clock. Keep in mind European power adapters or converters are not necessarily the same as British adapters. Be careful what you stick into the wall.
If you bring a computer or octopus USB you can save money on adapters. Just buy the octopus and plug your computer into the adapter! Walla, now you can charge 5-10 things at once.
British and EU phone sim cards are not the same. An American phone will not work in most areas of Spain, even if you pay extra for the roaming fees. The upside is that most places have wifi. So if you can avoid making phone calls other than Skype, you'll do just fine without a drop phone. Buying a temporary EU phone can cost you between $60-$500. $500 being if you buy a fancy phone, include data, and a lot of minutes. You don't need a monthly plan and can buy short packages.
Some hotels and hostels offer laundry service, but pack accordingly. You will need extra clothes on an international trip.
I like to use a neck pillow on the airplane. International flights can range from 6-21 hours long. If you are flying in an affordable seat, sleeping is going to be uncomfortable. You can position yourself in all kinds of weird positions and get through the journey. You will be tired. You will sleep. Yes, the flight attendants will feed you. Drink some wine and take a nap.
Airplane blankets are thin, cheap, and will leave you cold. I am short. At 5'1" most airplane blankets barely make me feel covered up. I'm a yoga and dance instructor so it's certainly not for a lack of trying.
Your camera will come in handy. You will want one. If you do not own a nice camera, bring your iPhone. I have a Rebel Ti3 and love it. To make things easier I integrate an eyefi card. The Eyefi creates a connection between my camera and my computer or iPhone. That connection allows me to upload photos in real time to dropbox and social media platforms like Facebook.
Safety
Thieves are prominent in almost every city of the world. Try not to make yourself a target. That sounds obvious, but there are little things you can do to not draw attention to yourself. At the very least try to be aware of your surroundings and not leave anything lying on a bench or table. If you see someone following you, watching your group, or casually staying nearby don't go outside alone. If you are already walking the streets or hanging out on your way back to the hotel and see something that makes you uncomfortable do not ignore it. Stop into a restaurant or find somewhere well lit. Many thieves work in pairs. One will attempt to distract you while the other steals something from you. Keep close watch of your children, valuables, and money. It's best to leave your passport and any other valuables locked up in your hotel room.
In Spain, most of the roads are just big enough to let a small car through. They are about the size of some American sidewalks or the equivalent of alleys. So you can not avoid walking down an alley way. Just be smart and try to stay aware. Don't let anyone into your hotel or hostel after dark that is not with you. Even if you recognize the person from earlier in the day when hotels don't lock up the front entries, it's best to not let strangers into the premises.
Wear a money belt.
Safety works best in numbers in any city. If you intend to party or drink while in Spain it's best to travel with a friend, plus it's more enjoyable to share the beautiful countryside experience with someone else.
Don't wear flashy jewelry.
Your phone doesn't even work in Europe, so leave the iPhone at home or in your hotel.
Use a shoulder or neck strap for expensive cameras and never leave it sitting anywhere.
Don't go to shady areas after dark. If you do not know what areas have a propensity for crime, just don't go out after dark.
If you plant to shop at luxury boutiques, carry a plane bag to hide your goodies in. Food bags are especially helpful for concealing your new merchandise. Walking around with a branded bag or snapping photos to show it off while touring the city could get you into trouble.
Some hotels will tell you if they have night management or security.
A sling bag is harder to steal then a shoulder bag. Back packs that can be unzipped without you knowing can be a target.
It's best to keep camera bags in front of you. It may feel or look stupid, but at least you will keep your camera.
Don't use a camera bag with a brand name on it. Use a plain black bag or a cheap ratty one that no one would want. When you are done taking photos, put your camera back into the bag.
Some thieves will take a knife and cut a hole into the bottom of bags or cut the strap off thin purses.