Explore the sights, sounds, food, and attractions of Las Vegas, Nevada with this Destenaire mini-guide of Vegas.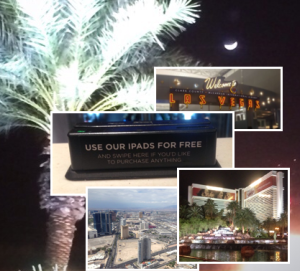 Welcome to Vegas, the City that Never Sleeps
Vegas is always busy and full of entertainment options. Morning, noon, or night you can walk into almost any hotel and lose track of time in the bright lights. From the moment you step off the tarmac and into baggage claim you will be surrounded by a variety of gambling options and ads for live shows. The average person thrown into this environment might be simultaneously awed and overwhelmed.
Las Vegas, Nevada is nicknamed the city of sin or sin city for short, but has more to offer than gambling, partying, and sexy entertainment. In 2003, Las Vegas tourism released their first ad quoting, "What happens here, stays here," the famous lines leading to, "What happens in Vegas stays in Vegas". This might lead you to believe that the only reason to go to Vegas is to party. While it's true that Vegas caters to the night scene, it also offers a variety of museums, recreational parks, fitness classes, spas, and live shows.
Las Vegas has more than 50 recreational parks. The city offers a variety of outdoor activities including hiking, mountain biking, backpacking, orienteering, dance classes, boot camps, and even trapeze classes. Plan ahead if you want to integrate any off the strip activities. Traffic runs slow during the day and it could easily take you two to four hours to get off the strip by rental car, taxi, or limo. If money is not an obstacle, some hotels offer helicopter tours.
---