Clean, delicious air. Watercolor sunsets. Meals over the campfire, lazy rivers, giant trees and curious wildlife. Camping – there's nothing quite like it, and there's no cheaper (or better) way to travel, take in nature and explore new surroundings. Whether you prefer sleeping under the stars, pitching tents, sharing communal cabins or glamping – you can find "your way" just about anywhere in the world. As an ode to summer, we've determined bucket list, can't-miss locations for the 4 different types of campers so you can easily plan your next weekend out of town or a more lengthy vacation at your leisure.
No. 1: Flying Flags Resort & Campground
180 Avenue of Flags, Buellton, CA 93427
USA (877) 783-5247
Style: Glamping – for the newbie camper, families with small kids and those who want all the amenities of being at home (with just a hint of outdoors).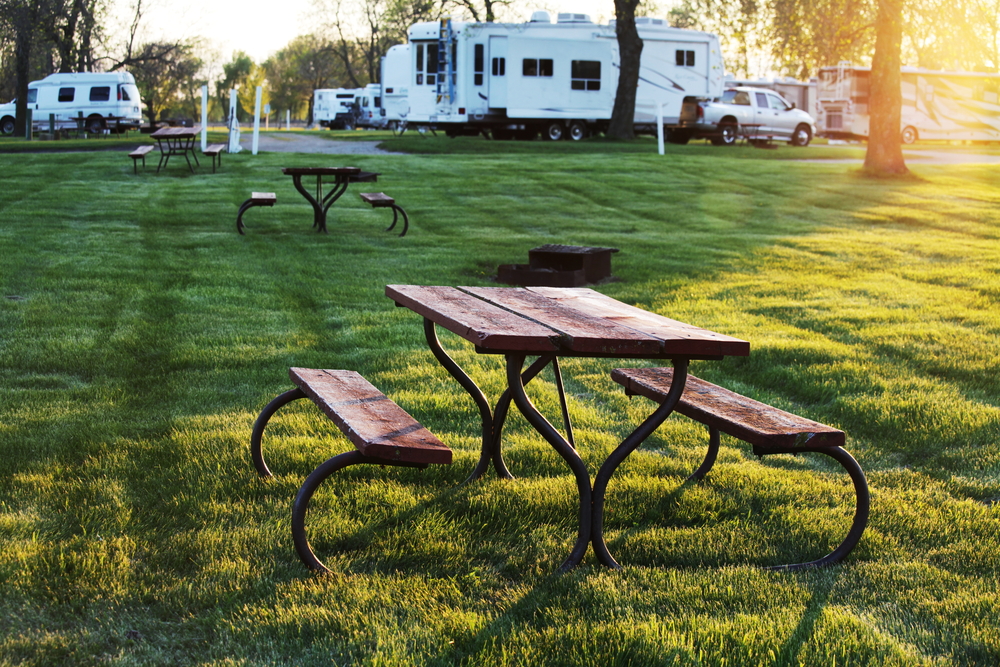 Why you want to go here: Buellton is located in Santa Barbara, and is a well-known stop for coastal travelers and a destination spot for wine-tasting vacationers. There are only a handful of accommodations for reasonable rates at any given time, so the travel-savvy stretch their legs and vacation at Flying Flags. Provisioning amenities that give it a "country-club" vibe (like a pool, two hot tubs, a café, a game room, live music and hot showers) you can select your preferred level of rugged from "bring your own tent or RV" to deluxe air streams, cabins and cottages available for rent year-round.
What you'll love: Whether you're traveling as a couple to go wine tasting in neighboring Santa Ynez or staying put for a family reunion, Flying Flags is friendly to all types of visitors. It's basically the "create your own camping adventure" where you can fall asleep under the stars (the lack of lamp posts and neighboring city lights means you can see constellations you had no idea even exist) while enjoying BBQ and a blow-up bed or a sleeping bag and pancakes in town at one of the local, family-run eateries like Ellen's Danish Pancake House.
Go there: http://www.flyingflags.com
No. 2: Fish Creek Pond
4523 New York 30, Saranac Lake, NY 12983
USA (518) 891-4560
Style: Outdoor Enthusiast – for those who like basic amenities but really want to focus on doing as much as possible like hiking, fishing, swimming, biking, spit-fire cooking and more.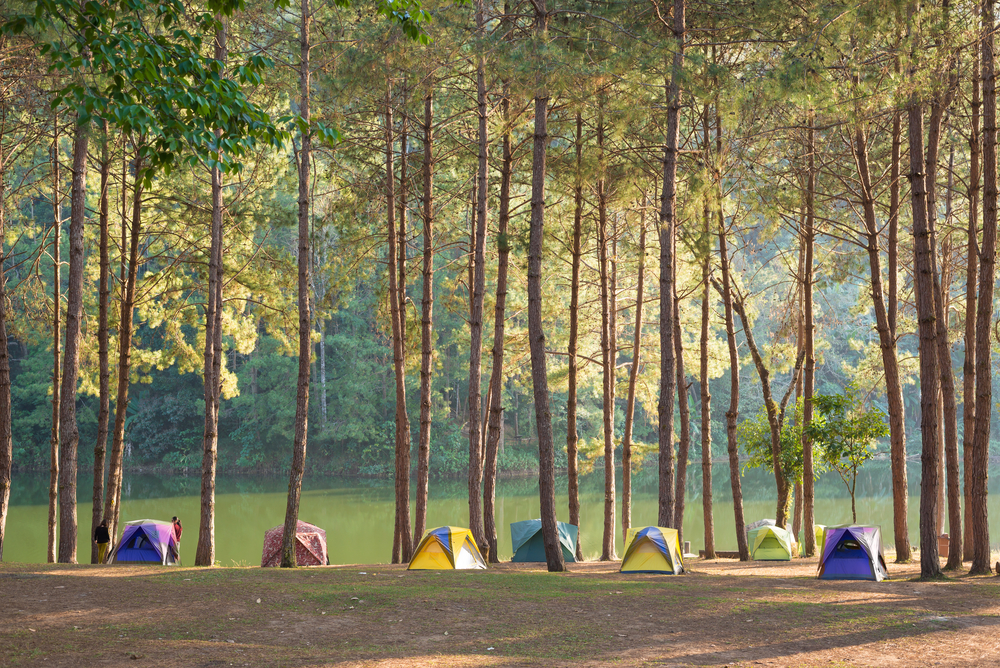 Why you want to go here: About 300 miles north of Manhattan, the Adirondacks are the go-to escape for many New Yorkers and Vermonters alike due to their proximity and extraordinary beauty. Featuring several lakes and mountains, there is a host of opportunities for avid campers of any variety. There is an abundance of campsites on well-kept campgrounds or backcountry trails, easy access to neighboring towns and stores for provisions and a range of activities like recreational sports, canoeing, kayaking, boating, fishing and hiking. Unlike many robust campgrounds, a majority of the sites are waterfront which makes Fish Creek Pond a highly desirable camping destination.
What you'll love: Boasting 355 campsites (319 are waterfront) and an easy to navigate reservation site that systematically displays available rentals (including photos), Fish Creek Pond is worth the drive. No matter who you go with, you'll never run out of things to do. Access to over a hundred hikes (two that begin right in camp), biking paths and dirt biking trails, solo and planned fishing opportunities for land locked salmon, black bass, trout and more make Fish Creek Pond one of the most popular locations for active couples, families and groups.
Go there: http://fishcreekpond.com
No. 3: Refugio Laguna Negra
"Getting to Bariloche, Argentina"
Style: Rugged with perks – for the experienced hiker and backpacker who appreciates a hot shower, a toilet, and a home-cooked meal at the top of a mountain.
Why you want to go here: Bariloche is nestled at the root of the Andes in Argentina. Boasting ski resorts, several hostels, campgrounds and a tiny village with restaurants, cafes, chocolate shops and stores – this is Argentina's version of Aspen. Open year round for tourism and athletic adventures, Bariloche draws travelers from all over the world (a majority are backpackers). While in Bariloche, people hike, golf, fish, shop, visit the park, ski and snowboard and stay in a variety of accommodation ranging from tent camping to high-end resort.
What you'll love: Bariloche can provide a rather normal camping experience if you stay at one of the grounds around Lake Nahuel Huapi (tent, cabin, wagon, hostel) like Petunia. However, the most memorable campsites are Bariloche's Refugios ("mountains huts"), which are remote tent or hostel-style accommodations several miles north in to the Andes mountains.
Refugios are hike-in-and-out only, and they provide shelter, a kitchen, bathroom, food for purchase and ample opportunity to bond with your fellow hikers since they sleep you typically in one large room or loft (many fit around 60 at a time and are at capacity during the summer) or share a make-shift campsite. For a stay like no other (many are located just feet from natural lakes) with views of snow-tipped mountains (at the end of the spring) and fresh coffee in the morning, camping at one of the Refugios is an experience of a lifetime.
I recommend Refugio Laguna Negra. Check the website for prices and seasonal dates – here, you can even make reservations. Note: Refugio Laguna Negra also makes their own beer, so make sure to leave room in your pack to carry a bottle or two down.
Go there: how to get to Bariloche
No. 4: Waldseilgarten Hollschlucht
Mayor Franz Keller-Straße
87459 Pfronten
Germany
Style: Thriller – for the most ambitious camper. Only.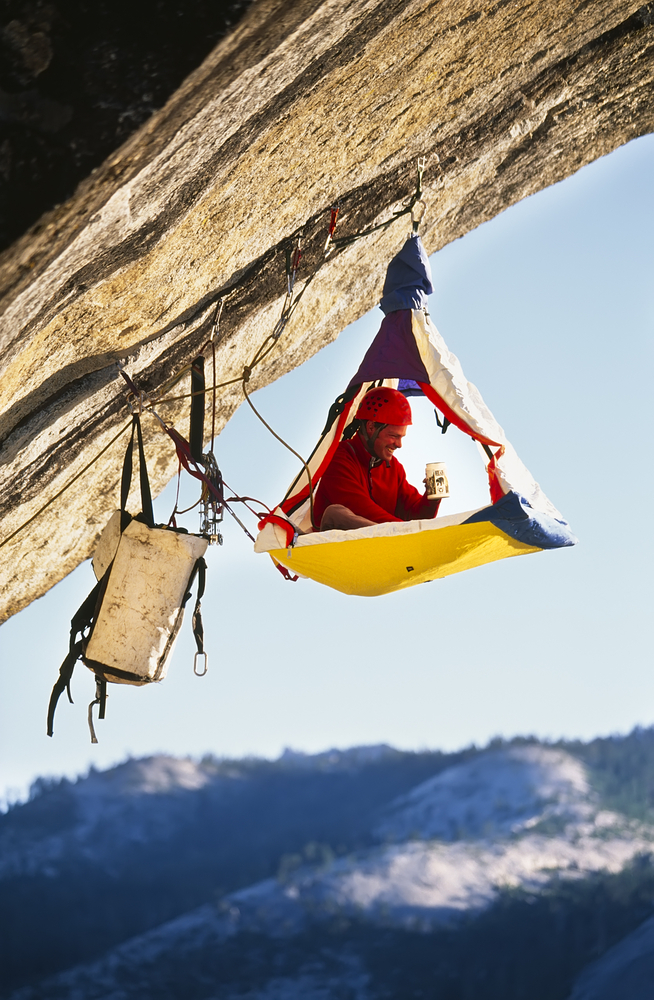 Why you want to go here: An adventure resort that, in addition to offering a host of activities like archery, tree climbing, a ropes course, rock climbing and more, gives you several daring options for accommodation that take the idea of camping on the ground to a whole new level (literally). At Waldseilgarten, you can also opt to sleep on a platform in the trees, a portaledge off the side of a cliff, or an igloo on the ground (during winter). All campers receive ropes training to assure the utmost safety when climbing to and from "bed."
What you'll love: Receive dinner, breakfast and snacks in the tree if you opt for portaledge. Sleeping on a platform enables you to "go to ground" at any time, and staying on a cliff 100-300 m high is reserved for only the most confident of heights. An experience like this is truly unique yet provides a variety of options to satisfy most levels of comfort, which makes it an absolute can't miss camping location on our list.
Go there: http://www.waldseilgarten-hoellschlucht.de/aktivitaeten.html