Family vacations create memories, whether it's an annual camping trip of a visit to some exotic location. If you're looking to get away from the buzz of the big city then why not look offshore. When someone takes the name Belize, one thing comes to mind; great offshore banking, but if you've settled for an unforgettable tour of the breathtaking Ambergris Caye, you will find that the island is also known for its diving, beach bars, ruins, and tours that are well worth the trip. Just in case you do decide to take the trip, this is going to be your top 5 guide to everything once you get there.
Tours
Offshore vacations are nothing without tours.
Sailing
The best way to travel around the Cayes is to either charter your own boat, if you're certified or sign up with a tour group for a day of sun and fun. The day sail to Caye Caulker is a popular trip which starts at 9 am. The cruise takes you out to Hol Chan Marine Reserve and then to the famous Shark Ray Alley where you can try out some snorkeling. Not to forget, sunset cruises are a must to experience at least once while you're on the island.
Diving
If you're going to a tropical island surrounded by water the one thing you can do is learn how to dive. There are a number of dive shops around the island that also offer the services of experienced dive masters that cater to both advanced and beginner divers. Belize Diving Services would be a good place to start. Equipment rentals vary but are all in the $255 to $300 range. Blue Hole is ranked as the 7th best diving spot in the world, so it is definitely one pleasure trip you wouldn't want to miss.
Snorkeling
Snorkeling tours are a favorite for visitors of the island. With plenty of service providers to choose from, you can find out the best deals and choose between an intimate or crowded environment. Some of the well known snorkeling tours are provided by BlackHawk Sailing ($60/ per person) and Ragamuffin ($70 per person). Both use sail boats, with Ragamuffin having a larger boat.
Cave Tubing/Zip Lining
Anda Da Water Tours offers a tour of the island by pulling you behind the boat on an intertube. The tour service requires a minimum of four people and is definitely a thrill ride you do not want to miss.
Kayaking Tours of the Island
Since the waters surrounding the island are calm, you can rent a kayak to go sightseeing on your own. You can also look forward to seeing sting rays and lots of fish while you're at it, but then again it all depends on visibility so its mothernature's call.
Hotels and Resorts
The following are some of the best hotels and resorts only a lime's throw from the water.
Conch Shell Inn
If you're looking for a place right on the beach, then the Conch Shell Inn offers the perfect beachfront location on the entire island. Although being one of the older hotels on the island, it does offer a great location and is relatively inexpensive.
Location
It is located in San Pedro Town Center, Beachfront.
Grand Caribe Resort
A great resort in a great location, the Grand Caribe Resort has great rooms and a pleasant staff who are incredibly nice, helpful and responsive to any of your needs.
Location
It is located 3 miles north of the bridge, San Pedro Town.
El Pescador Resort
"The couple that flyfishes together stays together" If you believe in this wise old saying then El Pescador Resort should definitely be on your list. There is a clear focus on the fishing here, and there are daily casting instructions and a fishing orientation.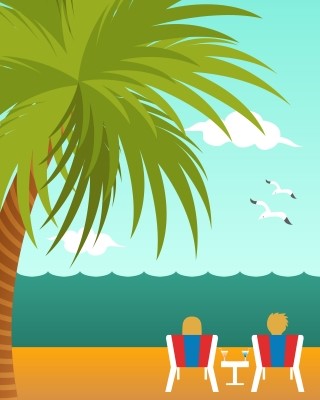 Location
It is located 3 miles North, Ambergris Caye.
Mata Rocks Resort
The suites aren't that big but the resort makes up for it with its impeccable cleanliness. The staff is helpful and friendly. They work with the Belize Dive Adventure which is very highly rated throughout the island. While there is no restaurant on site, you can buy hot dogs or pies at the bar.
Location
It is located 1 1/2 miles South of San Pedro Town.
Sunbreeze Hotel
The Sunbreeze Hotel offers a beautiful beach view and is walking distance from the island ferry, which is literally across the street from the airport. Large clean rooms, reasonable price and a very central location makes this hotel the perfect choice for those who want to shop and try out the variety of local cuisine.
Location
It is located on the beach across from Tropic Air, San Pedro.
Tips:
If you get a condo on the beach, watch out for the occasional peddlers who can be annoying.
Not all buildings have elevators, so if you can't walk up stairs, ask the reception.
Higher floors with views of the ocean are worth the extra costs.
Free wifi is usually provided in the units, but you can assume that some don't. In which case, ask before you book your hotel.
Bars & Nightlife
Carlo and Ernie's Runway Bar
Newly built, Carlo and Ernie's Runway Bar is a great sports bar which serves fantastic food and has really nice bartenders. The bar is buzzing seven days a week but you can stop by for BBQ's on Sunday's, when the house is full of tourists looking to have a fun time.
Location
The restaurant is located just south of the Tropic Air Terminal at San Pedro.
Cholo's Sports Bar
If you're looking forward to mingle with the locals and other tourists, Cholo's Sports Bar offers huge TVs, pool tables and a huge crowd and is a great spot to hang out and watch your favorite sporting event.
Location
It's located at Town Center Beachfront, just North of Fido's.
Daddy Rock's Night Club & Beach Lounge
The oldest bar in San Pedro, Daddy Rock's has the reputation of tending to the rougher crowd. But, hey, we all like to walk on the wild side, sometimes right? But just be careful of who you're hanging out with.
Location
Located at Town Center next to Central Park.
Fido's Courtyard
If you're looking to hang out in the largest and most popular bar in town then head out to Fido's Courtyard. Live music begins at 9 pm everyday and the venue is also known for having the largest palapa on the island and a dedicated and cheerful staff.
Location
It's located at the Town Center, Front Street just north of Central Park.
Jaguar's Temple Night Club
If you're a party animal then Jaguar's Temple Nightclub is the most popular late night spot to hang out in. The famous nightclub is open Thursdays through Saturdays and on special holidays as well.
Location
It is located in the Town Center Across from Central Park.
Ending Note
There are several places where you can have a grill fired up, serving you with fresh catch, so don't pass them by. Also, some places don't accept credit cards so make sure you bring travelers checks or cash along with you.