The first of its kind, 'Ithaa' an underwater restaurant, first opened its doors in April 2005. Located in Conrad Maldives Rangali Island, in Alif Dhaal Atoll, Republic of Maldives, it offers patrons a unique experience of dining under a magnificent view of the sea.
Ithaa, meaning Mother of Pearl in native Dhivehi language, is a cozy structure made predominantly of acrylic with transparent roof and walls, which allow a clear panoramic view of the beauty and glory of the Indian Ocean shimmering with coral reed, sharks, reef and turtles. Visitors climb down a spiral staircase into a thatched pavilion at the end of a jetty to go 16 feet beneath the water, to get a hard-to-forget true marine experience, all without getting wet.
Ambiance
Seating only 14 people at a time Ithaa is relatively small but highly popular. Requiring reservations weeks, if not months ahead, it is the perfect place for a romantic lunch/dinner or a celebration of a special occasion. Ithaa offers a once in a lifetime exclusive experience providing an intimate and truly quixotic atmosphere to relax and enjoy. It is also available for weddings and other private occasions. The phenomenal view of sparkling blue Maldivian waters creates an ambiance that is really incredible and memorable.
Wine and Dine
Having been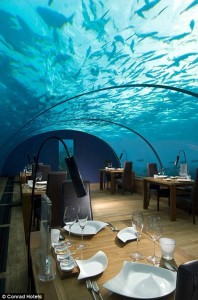 named as one of the craziest places to have a meal in, Ithaa is no doubt exceptionally distinct. Not only is the view fantastic, the food is a treat too. Serving an array of seasonal á la carte menus which are subject to changeo n the chef's whim at lunch and at dinner, the cuisine offered at Ithaa is labeled as a fine mix of contemporary European flavors with a unique Asian twist. With dishes such as Black Angus beef tenderloin, the yellow tail king fish, or the Maldivian lobster Carpaccio entrées and mouth-watering desserts like the white chocolate praline, mango sorbet, or the Valencia orange parfait on the menu, dining at Ithaa requires a whetted appetite. While closed for breakfast, you can choose to enjoy the light fare offered at lunch, or the elaborate six course dinner or even just drinks and appetizers in the afternoon. Boasting an impeccable wine cellar cocktail hour at Ithaa is a scintillating experience for the amateur wine aficionado.
Cost
While certainly not the most extravagant restaurant in the world, it may appear overpriced for some. Cocktails come at approximately $85 per person, with dinner for as much as $320. Lunch is slightly more reasonable in comparison at $180.
A Last Word
A watery view that is next to none, the restaurant is a visual dining wonder. A Mecca for style connoisseurs, Ithaa treats its patrons to stunning sights with a contemporarily approached ambiance. Ithaa was, in the past, converted in an exclusively private bedroom suite for a special fee as part of Conrad Hotel's 50th anniversary. Hopefully this one-of-a-kind suite will be available again in the future to allow people to make more unforgettable memories. All in all, it is a must to add Ithaa to the bucket list of places to visit for sure. It will be entirely worth it.