Paris, the City of Light, is a romantic place to visit in any season. This article is a quick guide to Paris, France. Including a short story, safety tips, romantic destinations, and hotels.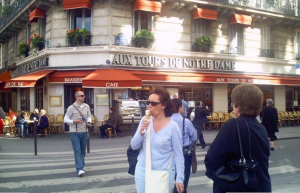 Tips for Traveling in Paris:
If you plan to visit the Chocolate Museum (Museu de la Xocolata) make it on the same day you plan to go to the Arc de Triomphe. In fact that whole area is full of museums. One or two offer free weekday passes, but you could just buy a multi-pass which will get you into multiple museums for the day.
The Louvre Museum is home to Da Vinci's Mona Lisa. I thought visiting the Mona Lisa was disappointing. It's tiny, overcrowded, and behind so much glass that you will never get a good look at her. In fact, some of the paintings near the Mona Lisa are so big that they tower over Da Vinci's famous painting. The Louvre houses so many pieces of artwork that may never even be brought up from the basement, but what is available for the public would take you weeks to see. Take a full day, during midweek, to visit the Louvre. Arrive early to avoid the lines. If you are a student, bring a student ID for a discount.
When you visit the Arc de Triomphe, follow the crowds. The first time you visit this monument, you may be confused how to get to the middle of a very busy intersection. DO NOT TRY TO CROSS THE STREET. There is a tunnel that goes under the street, if you do not see other tourists because you are there early in the day. Just wait a while or wonder around until you find the tunnels. If you can read French, there are signs posted to help you find your way.
Sortie and the little man running away from a box mean exit.
You may need cash on hand. It's dangerous to carry too much cash in case you get mugged, but even some bathrooms charge you to use the facilities.
Most restaurants do not have public restrooms.
It's cheaper to buy a beverage at the local market at the end of Champs-Elysées then to order one at one of the cute restaurants lining the street. As mentioned previously in this article, the Champs-Elysées is one of the most expensive areas in the world. So ordering pop (soda or coke) at a restaurant in that area may cost you as much as €10. Frankly, if you are going to sit at one of those restaurants, drink wine and make sure you are going to one of the best restaurants in the area because it's going to be an expensive bill either way. Yes, you could order the most expensive Starbucks or McDonalds you've ever eaten, but it just seems like a waist.