You would be hard pressed to find a more romantic city than Venice, Italy. In between the charming local culture, the exquisite architecture, the delicious food, the top-notch wine and—of course—the super famous canal system that the city is structured around, it is not surprising that this destination continues to be one of the most popular vacation spots in the world.
And drifting across serene, calm waters with your loved one in a Venetian boat while being rowed by a gondolier and admiring the many stunning sights? Yet another reason that lovebirds (as well as thousands of tourists) adore Venice.
But if you are pinching pennies, booking a flight halfway across the world to enjoy a gondola boat ride might not be the best decision.
Luckily for you, The Gondola Company offers a taste of the quintessential Venetian experience without having to fly internationally. And they do with a modern twist, to boot!
Located in Coronado, CA (which is nearby the always lovely city of San Diego) The Gondola Company was founded in 1998 and has been serving as—as they like to say—"Your Passport To Italy" ever since.
But instead of rowing through the waters of the Grand Canal, as they do in Italy, The Gondola Company's gondoliers (who, by the way, only sing if asked, since the boats have Italian-style songs playing) guide their patrons' gondolas past several of the area's most dazzling sights.
Beginning at Loews Crown Isle Marina and traveling through the waterways and canals of the both ever-gorgeous and shockingly underrated area of the Coronado Cays, these tours definitely provide guests with a once-in-a-lifetime experience that they will never forget.
And these cruises are far from one-size-fits-all experience, since there are a handful of different cruise type options available depending on what you are looking for.
So whether you are dreaming of planning a group adventure, an intimate date with your one and only or something else entirely, The Gondola Company will make all of your gondola ride dreams come true.
Also worth noting is the fact that each cruise is around 50 minutes long and that all boats comes equipped with an ice bucket, a bottle opener and glasses, so that guests can pop open a bottle of their favorite beverage. Because who wouldn't want to sip wine while drifting past fabulous houses and basking in the beauty of a sunny day on truly serene waters?
Curious about The Gondola Company? We were too, which is why we were so thrilled to be able to chat with the company's owner Sean Jamieson.
Read on to hear how exactly this innovative company came to be, his recommendations for where to wine, dine and book a stay in the area and much more.
Providing Venetian-style gondola cruises in Coronado, CA is both brilliant and unexpected! What was the inspiration behind this rather unique endeavor?
I grew up in Long Beach, California and learned to row Venetian boats there. A group of us would travel to Venice for a yearly regatta called the Vogalonga. Those trips really solidified my love for Venice—its culture, the gondola and the rowing.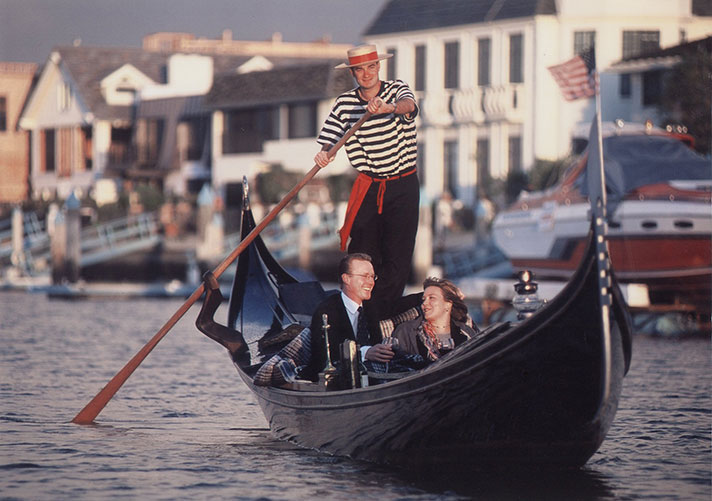 Tell us a bit about the Pasaporto Cruise (which becomes the Sunset Cruise come sundown) and the Wine Tasting Cruise.
You're right, the cruises are the same except the time of day. The cruise is a relaxing journey through a residential community called the Coronado Cays. It's a boater's community with canals and boat docks in front of the homes. We travel past million dollar homes and boats in what we consider a modern Venice.
The Wine Tasting Cruise happens on our biggest boat, the Caorlina (and, yes that is the correct spelling!) A sommelier goes through a flight of 6 wines while two gondoliers navigate through the community.
Which type of cruise do you think large groups would enjoy most?
Groups of up to 14 people can travel on the Caorlina. Larger groups can use more boats and travel close to each other on the Fleet Cruise.
Most people are not familiar with the Coronado Cays. What do you think it is about this lovely little community that appeals to so many people?
No matter where you are from, you feel like you're in a different world. It's a quiet and peaceful escape.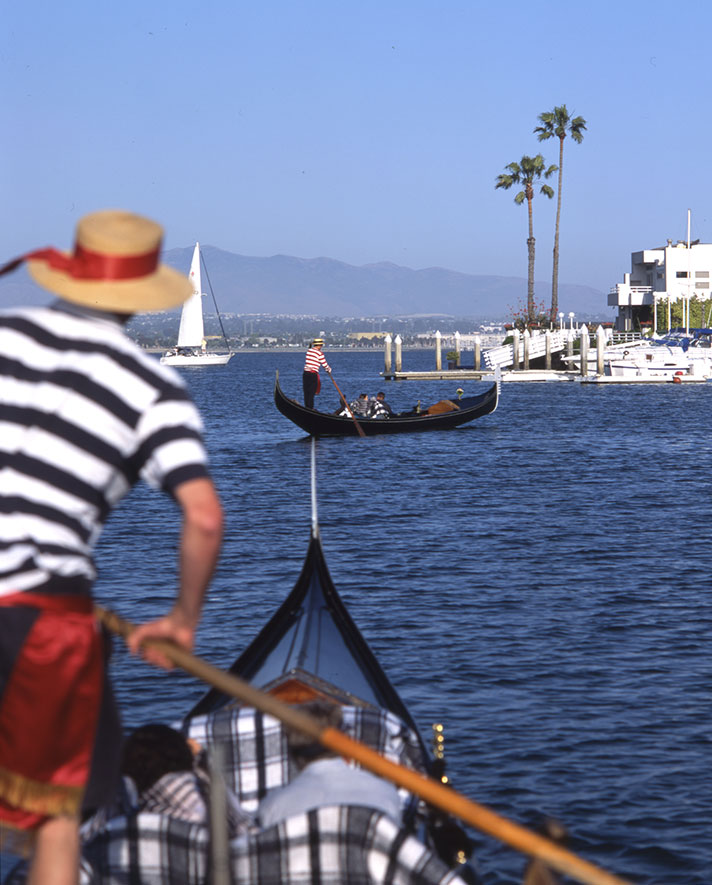 To make the most of a vacation to the beautiful city of Coronado (in between enjoying one of your incredible cruises, of course!), what activities in the area do you recommend for out-of-town visitors?
Stay outside: Hike Torry Pines or Point Loma lighthouse, walk on the beach, surf, stand up paddle, kayak, sail, etc.
As someone who provides fantastic service to many, many visitors a year, we'd love to hear which local hotels and restaurants are best for guests.
Best in Coronado: Nice Italian is Vigilucci's. For burgers and beers is Coronado Brewery. For Mexican dishes, Miguel's. Other noteworthy restaurants in San Diego: Filipi's Pizza Grotto and the Field Irish Pub.
Are there any romantic gestures or proposal stories you've witnessed throughout the years that you'd like to share?
The stereotype proposal is the young, very nervous, man who takes a deep breath and pulls off his prepared speech followed by the relief of getting the answer he hoped for along with tears, sobs, and hugs. We also see lots of anniversaries and birthdays.
Any last minute words of wisdom?
We offer cruises until midnight. Going to dinner first and the gondola after dinner is my favorite. It's just the perfect combo; after dinner you're already relaxed and you get out on the water when it's usually less windy and calmer and most other boats are put away. Some worry that it will be too dark (like a cave) but it's like any residential community with lots of ambient light.
Fascinated by this modern take on a little slice of Venetian heaven? Explore more about The Gondola Company by clicking here. And, as always, feel free to share your thoughts in the comment section below!